29 October 2001

Ronald M. Lanner
CONIFERS OF CALIFORNIA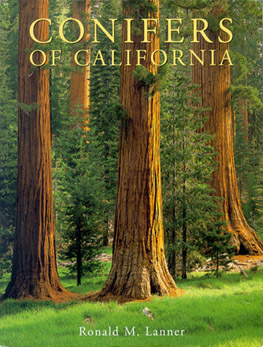 Cachuma Press, Los Olivos California, USA, May 1999, 274 pages, color photographs, color drawings (by Eugene O. Murman), maps, appendix
ISBN 0-9628505-3-5



Book Cover :

Discover the fascinating world of California's conifers.

Conifers grow nearly everywhere inCalifornia. They are found from sea level to about 12,000 feet, and they grace practically every natural habitat in the state, ranging from arid desert scrub to fog-shrouded rainforest. California is home to 52 native coniferous species; no other state, and, indeed, no other comparably-sized region on Earth contains more conifers or harbors a greater diversity of cone bearing plants.

California's conifers are remarkable not only for their variety but also for the large number of them that can only be described with superlatives. There is coast redwood, the world's tallest tree; giant sequoia, the world's most massive tree, Great Basin bristlecone, Earth's oldest living organism; and Torrey Pine, rarest pine in the United States. California also harbors an assemblage of others intriguing but less-famous conifers, such as Santa Lucia fir, Brewer spruce, and Monterey cypress.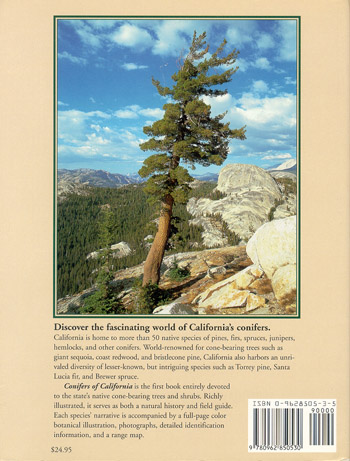 Conifers of California is the first book devoted to all of the state's conifers. Its author Ronald M. Lanner (professor emeritus, Utah State University) has explored, studied, and taught about forest trees in the West for 40 years. In Conifers of California he shares his expertise and introduces each of California's cone-bearers in an engaging text that serves as both natural history and field guide. Lanner's narratives are accompanied by detailed identification information, watercolor botanic illustrations by the late Eugene O. Murman, color photographs of each species by well-known landscape photographers, and distribution maps.
Ronald M. Lanner is a native of Brooklyn , New York whose teen-age interest in natural history led him to become a forester. After military service and a master's degree from Syracuse University, he was employed for six years in forestry research by the U.S. Forest service in California and Hawaii. Following doctoral studies at the University of Minnesota, he taught various forest biology courses for 28 years at Utah Sate University until his recent retirement. His major research interests - which he has pursued throughout the United States and in Mexico, Canada, Taiwan, France, Finland, and Switzerland - have included natural hybridization in pines, effects of aging on trees, bud development in pines, and the ecological and evolutionary effects of mutualisms of birds and pines.
Lanner's previous books are The Piñon Pine : A Natural and Cultural History; Trees of the Great Basin; Autumn Leaves; A Guide to the Fall Colors of the Northwoods; and Made for Each Other : A Symbiosis of Birds nd Pines.
---
29 October 2001