27 October 2001

Robert F. Fries
EMPIRE IN PINE,
The Story of Lumbering in Wisconsin 1830-1900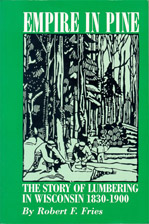 Oxford University Press, New York, USA, 1996, 160 pages, color & black-and-white photographs, line drawings, tables, maps, bibliography, index
ISBN 0-19-508903-0



Book Back-Cover :

For more than a generation, lumbering marked the path and set the pace of Wisconsin's growth from a frontier community into the great commonwealth it had become by the turn of the century. Empire in Pine is a comprehensive study of that industry, whose output soared from a few thousand board feet in 1830 to the stupendous total of four billion board feet in the peak year of 1892, but it is at the same time a highly readable account of a fascinating era in Wisconsin history. It won the David Clark Everest prize in Wisconsin Economic History.

When it was first published by the State Historical Society of Wisconsin in 1952, William Evjue, then editor of the Capitol Times, had this to say about the book:

Empire In Pine... is history at its best. Written in an easy and vivid style and leaning on the results of thorough research, it unfolds before the reader the story of an industry which was a vital force in the development of Wisconsin.

Mr. Fries is Professor Emeritus of History in De Paul University, and has lived in Wilmette, Illinois, for many years. He was born in La Crosse, Wisconsin, in 1911, and two of his grandparents had worked in the Black River pinery and in the mills at La Crosse. From them and many others he absorbed a wealth of anecdote and information about the lumber industry. These personal accounts, says Mr. Fries, "infused the breath of life into the historical documents, and into the Bunyanesque figures of Wisconsin's industrial past."
---
27 October 2001