Abies amabilis
Siskiyou Mountains, Siskiyou County, California, USA.
This stand in on the north side of the Siskiyou Mountains, between Black and White Mounts, on the North slope, just off the Pacific Crest Trail. There are two more stands along this ridge to the west at Slaughter-house Flat and near Copper Butte. The only other stand in California is at Hancock Lake in the Marble Mountains. The Uknonon Lake stand is an error. On this photo, Abies amabilis is the tree in the center. Also at this location Abies magnifica var. shastensis (smaller trees in foreground and right) and Abies lowiana (large tree in background to right of Abies amabilis) are growing.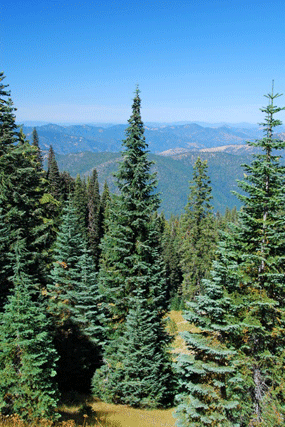 Location of Abies amabilis. White Mount and Black Mount partially seen behind. Stand in on saddle between the two peaks on North side.